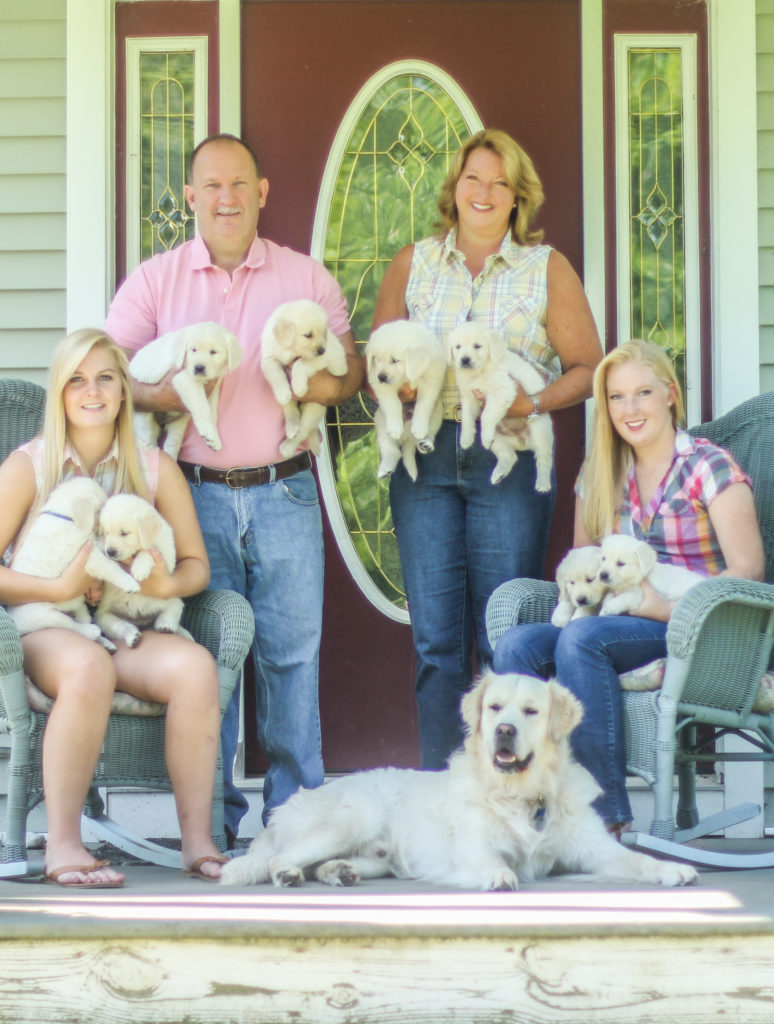 About our Family
Bear Pond Retrievers is a very small, selective breeder providing quality Labradors and Golden Retrievers.
Our dogs are our family pets and each dame is typically bred about every 14-16 months.  Located on about 100 acres of fields and woods, our dogs are "country dogs", complete with mud and rolling in the horse pasture!  We do not have cages but do have separate areas to keep it manageable with 6-7 breeding dogs on site.
We breed smart, healthy dogs and supply each adoption family full or limited (depending on litter and price for Goldens) AKC or UKC Registration and Health Guarantee backed by Maine's Statute. All pups are provided with first shots, worming and vet check before leaving our home.
Many of our pups have become competent bird dogs, but all of them have become great family dogs. They are easy to train and very affectionate.   We have vet, OFA and Penn Hip clearances for hips and elbows, OFA for eyes and heart and Genetic disease panels on breeding adults.
Our Promise
We take careful measures to ensure the healthiest puppies possible. Our dogs have Hip, Heart and Eye clearances from licensed veterinarians, cardiologists and ophthalmologists, certified by OFA and Penn Hip.  However, careful breeding and the quality of life here cannot guarantee that nothing will happen.  In the rare event of a puppy needing medical intervention, we do adhere to the State of Maine's Statute, which protects both buyer and seller of puppies.  It can be found online for a full read if you're interested.   We highly recommend puppy health insurance and provide all adopters with 30 days of free coverage.  Our puppy warranty can only cover up to the amount of the adoption fee and most surgeries, though very rare, are way beyond that fee.
At Pick-Up
Puppies come with first set of shots, wormings, veterinarian health check and microchip with AKC Reunite (Worldwide Universal Chip).  They will need a booster shot at 12 and 16-20 weeks and rabies vaccination around 5-6 months.
If, for any reason, a family cannot keep a puppy, the puppy (or dog) should be returned to us.  We would never allow any dog we bred to end up in a shelter or a home where he or she is not wanted.  We have many people wanting to adopt goldens who are not puppies and we would keep the dog forever if not adoptable.
Registration
All puppies come with limited registration unless special arrangements are made with us.  Certain conditions are required and each request is considered individually.  We require all females and most males to be spayed and have a signed agreement at adoption.
Visitation
We welcome you to visit your puppy while waiting for him/her to be old enough to take home.  Just contact us ahead so we can plan our day!  I also have a facebook page for each litter as it's much easier to upload pictures as they grow to facebook than the website or email.
Communication
Communication is imperative for a smooth adoption and worryfree future.  We welcome all questions and concerns via email or phone.