Christy Gardner, Founder of "Mission Working Dogs"
Christy Gardner is nothing short of a hero. Medically retired from the Army in 2007, she acquired her Golden Retriever Service dog Moxie in 2010 and a new path evolved. She is now building a service dog training center for her "Mission Working Dogs" organization in Oxford and we (Bear Pond Retrievers) have committed to donate several puppies each year to this noble cause. As Stan is a veteran, the opportunity to serve other veterans is something we were thrilled to accept. We look forward to many years of helping Christy and cannot wait to see what our dogs can do.
Read more about Christy. Mission Working Dogs
Company2Heroes, Glouster, MA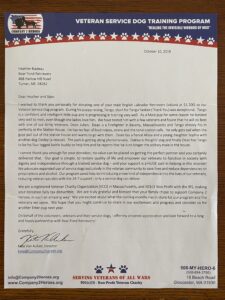 Veterans Charity Organization
We donated "Tango" to this wonderful organization and will help them again! This was our first Veteran's cause and it's very near and dear to our hearts.